Long Term Care
Not long ago, the Ministry of Health and Long Term Care upgraded the standards for long term care facilities. Built decades ago, both Ritz Lutheran Villa and Mitchell Nursing Home must now be upgraded to meet those standards. Without the upgrade, the beds will disappear over time.
We are fundraising to ensure our new West Perth Village is a Class A facility under the new guidelines. The design features four, 32 bed units that are temperature controlled and feel more like mini neighbourhoods than institutional living. Each will have its own dining room, lounge and activity area. Nursing station site lines will allow constant contact, and the rooms will be brighter with access to sunlight and a beautiful landscape.
That's the spirit of our new seniors' residence called West Perth Village; the blend of Ritz Lutheran Villa and Mitchell Nursing Home in a brand new facility that connects our legacy to a future of caring and compassion in a country setting. The provincial government approved the project under new standards at a cost of $25 Million. Our community's share and fundraising goal is $5 Million.
Home and Community Care Support Services 519-474-5668 or 1-877-418-5668
Dietary
Food Advisory Councils are active at West Perth Village which promotes residential rights, autonomy and decision making. These meetings are held monthly. It provides residents with the opportunity to suggest menu items for special holidays, comment on current menus and approve any upcoming menu cycle and to discuss changes and concerns affecting the residents' quality of life.
West Perth Village provides three healthy, delicious and enjoyable meals to residents daily. Each meal offers residents two freshly prepared choices off the menu. Snacks and beverages are offered three times a day, between meals and in the evening.
We have 4 well lit dining rooms that have adjustable tables that promote a more pleasurable dining experience and with 32 residents in each dining room there is always good conversation going on.
There is a full time Nutrition Services Director on duty, as well as a Registered Dietitian who comes to the Home twice per week to ensure all Residents dietary needs are met.
Housekeeping
Housekeeping
Daily – Each resident's washroom is cleaned and garbage is emptied
Weekly – Each room is cleaned regularly (vacuumed, dusted, etc)
Annually – A thorough house cleaning is completed including walls and draperies
Laundry
Personal laundry is picked up on a daily basis, laundered and returned to the resident's room. All clothing, personal bedding, etc. must be labeled to prevent loss of articles. The Homes supply computer printed labels at no cost to the resident.
Maintenance
Our maintenance staff are on-site and ensure that both the interior and exterior of the buildings are maintained. We encourage our residents to bring in their own personal furniture, pictures, television, telephone, radio, CD player, lamp, etc. so that their room has a more "home-like" atmosphere. However, all electrical appliances must be CSA approved and must be authorized by our Maintenance personnel prior to use in the Homes. Due to the number of possible appliances, and home policies, we may not be able to accommodate all requests for additional appliances in resident rooms. Please note that the Maintenance personnel may assess the safety of electrical equipment brought into the Home from time to time.
Nursing
As part of our Nursing Services, we are proud to offer several professional services to provide quality resident care.
Restraint-free facility
Regular visitation by our Medical Director and 24 hour medical on-call service
Registered nursing care is provided twenty-four hours a day
Qualified personal support workers twenty-four hours a day
Dental hygienist
Registered Dietitian
Professional foot care
Laboratory services including on-site X-rays, ECGs and Ultrasounds
Palliative care
Pastoral care and Social Work
Pharmacy services including dispensing cabinets, a consulting Pharmacist and a Pharmacy Technician on-site 5 days a week
Therapeutic bathtubs and pressure reducing mattresses
Zero-lift policy
Hairdressing
Restorative Care
Wound care
Infection Prevention and Control program including screeners
Emergency call system at the bedside, well marked doorways and extensive hand rails. There are also security/supervision devices to reduce the risk for those who might wander out of the building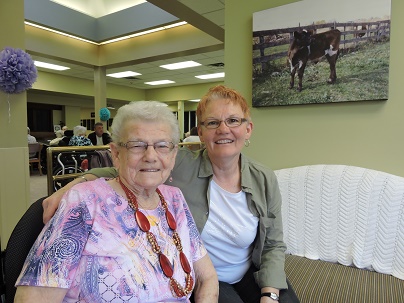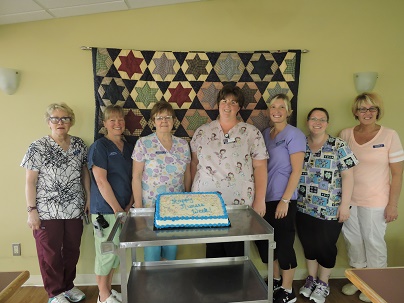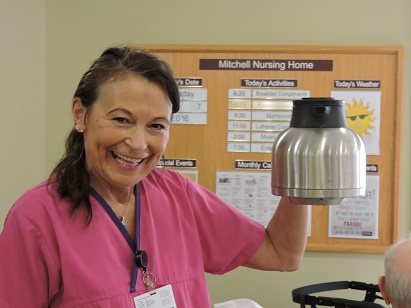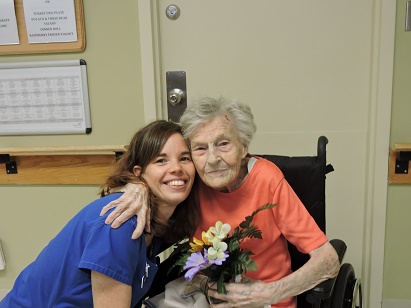 Programs
The Program Support Department provides residents with social, emotional, spiritual and intellectual motivation. Each home offers, daily, a wide range of recreational activities for a variety of interests. All activities are designed to enhance the quality of life of each resident. A few program highlights are as follows:
Seasonal programs, such as summer bbq's and Christmas Lights tours
Outings to enjoy restaurants, shopping, scenic drives and more are regularly available
Music therapy programs
Pet Therapy
Art Therapy
Picturesque outdoor spaces and nature trail provide residents with settings to walk outside
Beauty Salon
Residents' Councils are active at each long-term care Home and promote residential rights, autonomy and decision making. they meet monthly to discuss changes and concerns affecting the residents' quality of life.
Family Council meets regularly to discuss issues pertaining to the Home. The meetings allow the Leadership team to communicate changes and issues which affect the Home. These meetings provide family members the opportunity to ask questions and voice their concerns.
West Perth Village Rates
Rates for West Perth Village Home for the Aged. The following fees are applicable to West Perth Village for the Aged.
Long-Stay Program
Type of Accommodation
Daily Amount
Monthly Amount
Basic or Standard Accommodation
Various Styles
(Depending on when the home was contructed or renovated)
63.73
1938.46
Preferred Accommodation
Semi-Private Room
72.47
2204.30
Preferred Accommodation
Private Room
83.38
2536.14
Optional services (e.g. cable TV or hairdressing), can be purchased for an additional fee. Some long-stay residents in basic accommodation may be eligible for a rate reduction.
West Perth Village Map
This section of our website is coming soon. Stay tuned for layouts of our homes so you can find your way around easier. If you are trying to find out how to get to one of our homes, please click on the 'Directions' tab on the "Home" page
Thank You
West Perth Village
West Perth Village Tours
We would be delighted to give you a tour of our Homes and discuss your residential requirements. However, for scheduling purposes, we request that you book ahead for a tour time with us.
To set up a tour you can phone 519-348-8612 Ext. 225
Careers
Our team members are passionate about providing the highest quality of services to our residents. They not only have the right skills and knowledge, but more importantly, share the organizational values. They have the right attitude; and view their role as not just a job but a calling. In all of our departments, we recruit only the best.
Our services include:
Person-centered care

Quality care

Clinical programs

Rehab and restorative care

Dementia care
Current Career Opportunities
FAQ
Who do I contact to apply for long term care?
Please contact the Home & Community Care Support Services at 1-877-418-5668.
How much does it cost?
The MOHLTC sets the accommodation co-payment rates for Long Term Care homes across the province. The co-payment rates are effective July 1, 2019 and change from time to time (at a minimum, annually). Presently Basic=1938.46/month – $63.73/day, Semi-Private=$2204.30/month – $72.47/day,  Private=$2536.14/month  – $83.38/day
What are the visiting hours?
As part of our focus on quality of life for long term care residents, we encourage family and friends to visit as often as possible, except during posted outbreaks. Current visiting hours are 8AM – 9PM. Masking is still required for Long Term Care Homes.
Where can I find the most up-to-date information about West Perth Village?
While we try to keep our website as up-to-date as possible, there is a chance that we have missed something or simply haven't gotten around to changing it yet. So while the website is usually a reliable source, the best way to get the most current information is to Contact Us directly.
Can I give a donation to West Perth Village?
Donations are greatly appreciated and help us to provide the best services possible to our clients and community. Tax reciepts are issued for all donations. Please take a look at our Donations page for more information. If you are unable to donate financially then we do have some volunteer positions available. Please take a look at our Careers/Volunteers page for more information on these opportunities.
Our History
History of West Perth Village
West Perth Village was incorporated in May 1971 as a charitable organization dedicated to meeting the residential needs of seniors living in the Municipality of West Perth, which incorporates the town of Mitchell and the surrounding townships of Fullarton, Hibbert and Logan. The organization, which is also a registered charity, is governed by a Board of not more than fourteen volunteer Directors who hold membership in the Corporation and who are elected at its Annual General Meeting. The Corporation has served as the parent organization for a number of services and programs which include…
a licensed home (opened 1974) operating as West Perth Village
a Seniors Non-Profit Housing Complex (opened 1985) operating as Ritz Manor Apartments
a number of Community Home Support Programs (1987) operating as Mitchell & Area Community
Outreach and Mitchell & Area Mobility Bus
a Life Lease Housing Project (1994) operating as Thames River Place