Wellness
The initiative began in 2008 consisting of seven community support agencies providing services throughout their respective counties. Wellness for Seniors (WFS) of Perth and Huron has been funded through the South West Local Health Integration Network (LHIN) to create a wellness program based on the enhancement of existing programs and the creation of new ones. The WFS programs bring wellness, education and health monitoring to community dwelling individuals in rural and isolated areas. Promoting and sustaining improved health for older adults through a standardized best practice model of programs in local communities across Huron-Perth. All services will be provided with the overarching themes of education, exercise and health promotion/monitoring. WFS programs encourage individuals to manage their own health. Wellness programs have been created to provide a safe, inexpensive avenue for individuals to remain active and healthy.
The use of volunteers for program delivery allows for a high volume of programming with low costs of delivery. All seven agencies partnering in this project have collaborated in program delivery and development, along with community partners including Family Health teams, Family Physicians, Health Units, Community Professionals and other agencies.
Health Education
Education Sessions
Educational topics presented by Wellness Coordinator or a Guest Speaker
Program offered at various times throughout the year
Topics vary – feel free to suggest a topic!
Sessions held in various locations in West Perth
Free of charge
Coffee Hour
Presented by Wellness Coordinator or a Guest Speaker
3rd Wednesday/month @10:30am at Ritz Manor Apartments Lounge
Coffee, tea, and snacks are provided
Free of charge
Senior Book Chat
Last Tuesday/month @11:00am at Ritz Manor Apartments Lounge
Coffee/tea provided
Bathing
Theraputic baths can be scheduled weekly or as needed at the West Perth Village in the hyrdosound tubs. Baths are done by trained healthcare staff.
Rates: $22.00/half hour
(a $22.00 cancellation fee is charged if baths are not cancelled the day before)
The Hydrosound tub is a low frequency ultrasound which propagates pressure waves in water. These waves continuously create millions of microscopic bubbles and remove dirt particles from the client's skin, gently and effectively. The Hydrosound's gental massaging action offers a new standard of cleanliness without discomfort. The benefits of the bathing program hydrosonic tub are:
personal hygiene
promotes healing of wounds
improves circulation
a safe alternative to bathing for those who need assistance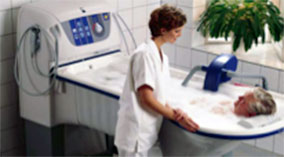 Health Assessments
Audiology Clinic
Hearing assessment & hearing aid cleanings done by an Audiologist
Service provided by Connect Hearing Stratford
Session provided every 6-12 months
Clinic held in the Ritz Manor Apartments Lounge
Free of charge
Contact Mitchell Outreach for dates of upcoming sessions
Blood Pressure Clinics
2nd Tuesday/month @ 1:00pm-3:00pm at West Perth Public Library (Drop-in)
Last Tuesday/month @ 1:00pm – 3:00pm at the Ritz Manor Apartments Lounge (by appt.)
Program to help monitor blood pressure for those who are at risk or are diagnosed with high blood pressure (hypertension)
Free of charge
Foot Care Clinic
Monthly (contact Outreach for specific dates, appointment required)
Registered Foot Care nurse provides foot & toenail treatments
Cost is $35.00
Senior Fitness Test
Held semi-annually during scheduled exercise classes
Assesses individual's strength, cardiovascular endurance, flexibility, balance and ability
Free of charge
Exercise & Falls Prevention
Group Exercise Class
Level 3, 60 min
Monday, Tuesday, Wednesday, Friday @ 9:30am-10:30am at Upper Thames Missionary Church
Class is designed for those with a moderate to vigorous level of ability
Free of charge
Active Wellness
Level 2, 40 min
Monday, Wednesday, Thursday @ 1:30pm-2:10pm at Ritz Manor Apartments Lounge
Class is designed for those with a moderate level of ability
Seated and standing components
Free of charge
Yoga
Monday and Thursdays @ 10:00am at LiveWell4Life
Drop-in
$10.00/session